Sector Overview
The UAE's heavy industry sector is growing rapidly and plays an increasingly major role in contributing to the nation's GDP. The UAE is home to some of the region's largest steel and aluminum plants and manufactures a wide range of metal products.
'Green aluminum' refers to sustainable, low-carbon production methods. It involves using less carbon and more energy-efficient processes, resulting in less than 5% of the carbon footprint of primary aluminum. The UAE will be the first country to produce green aluminum using solar energy through Emirates Global Aluminium (EGA), the world's largest producer of premium aluminum, which is the UAE's largest export after oil and gas. In addition, Emirates Steel is a leading integrated steel plant company that incorporates the latest technologies in manufacturing efficiency and sustainability. In August 2021, they signed a partnership agreement with TAQA Group to develop a large-scale green hydrogen project to support the first green steel production in the MENA region.
By adopting emerging technologies that enable the automation and remote management of operations, the country aims to improve efficiency and competitiveness in this sector.
UAE 1st
Country to produce green aluminium using solar energy
Premium Aluminum
is the largest export after oil and gas in the UAE
+122%
The sector contribution to the GDP projected to increase by 122% over the next 10 years
EGA #1
'Premium Aluminium' producer in the world in 2021
Explore
Explore The Sector
The UAE manufactures a wide spectrum of metal products
By adopting emerging technologies that enable the automation and remote management of operations, the country aims to improve efficiency and product competitiveness in this sector
Testimonials
Success Stories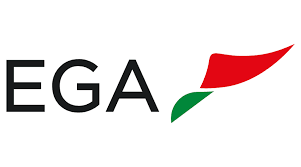 Emirates Global Aluminum (EGA) Testimonial