Back to Latest News
Ministry of Industry and Advanced Technology Explores the Path to Sustainability in the Manufacturing Sector with Schneider Electric
•
Joint in-person panel discussion held at Expo 2020 Dubai
•
Her Excellency Sarah Al Amiri and Jean-Pascal Tricoire discuss creating a globally competitive and sustainable industrial base that is at the forefront of the Fourth Industrial Revolution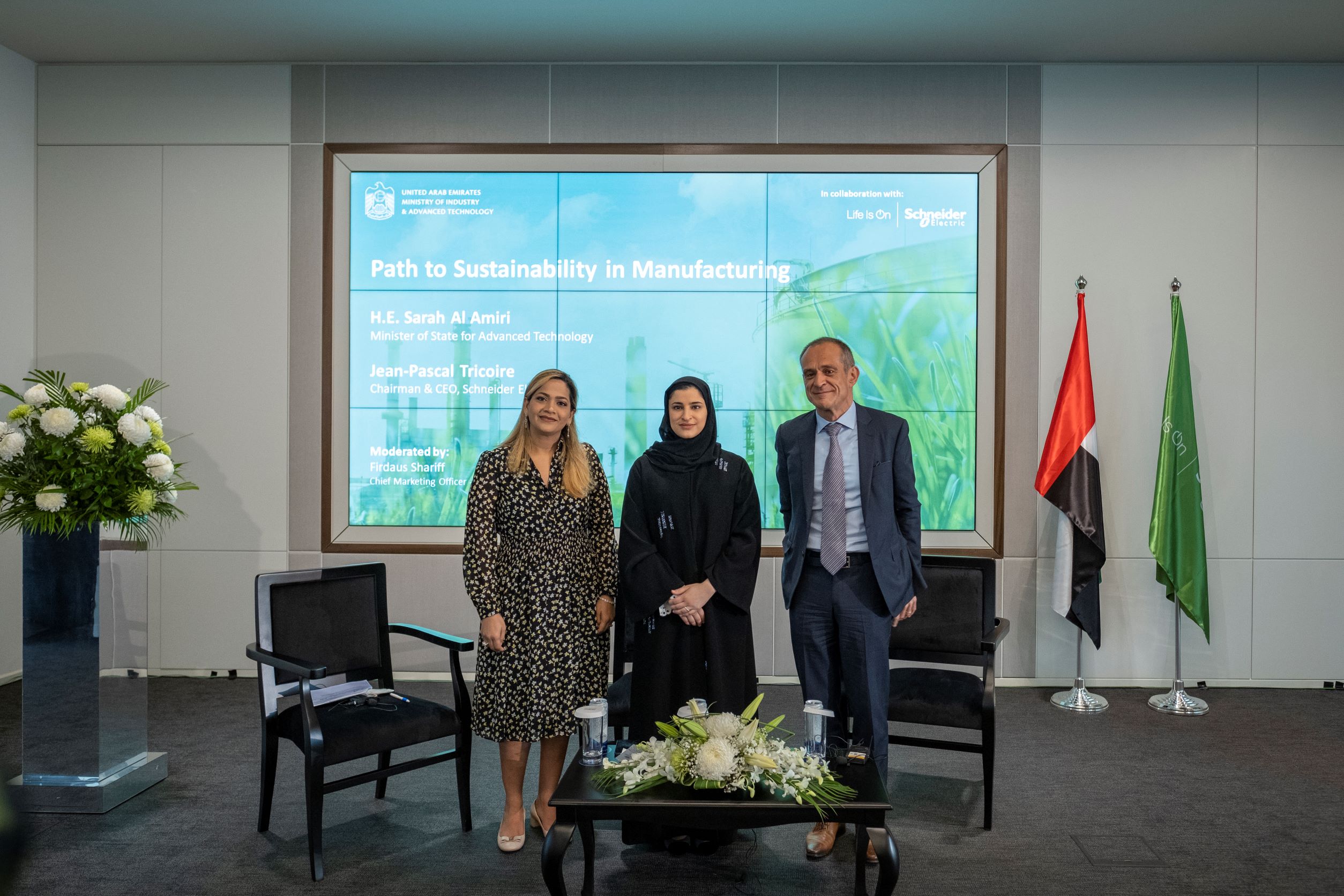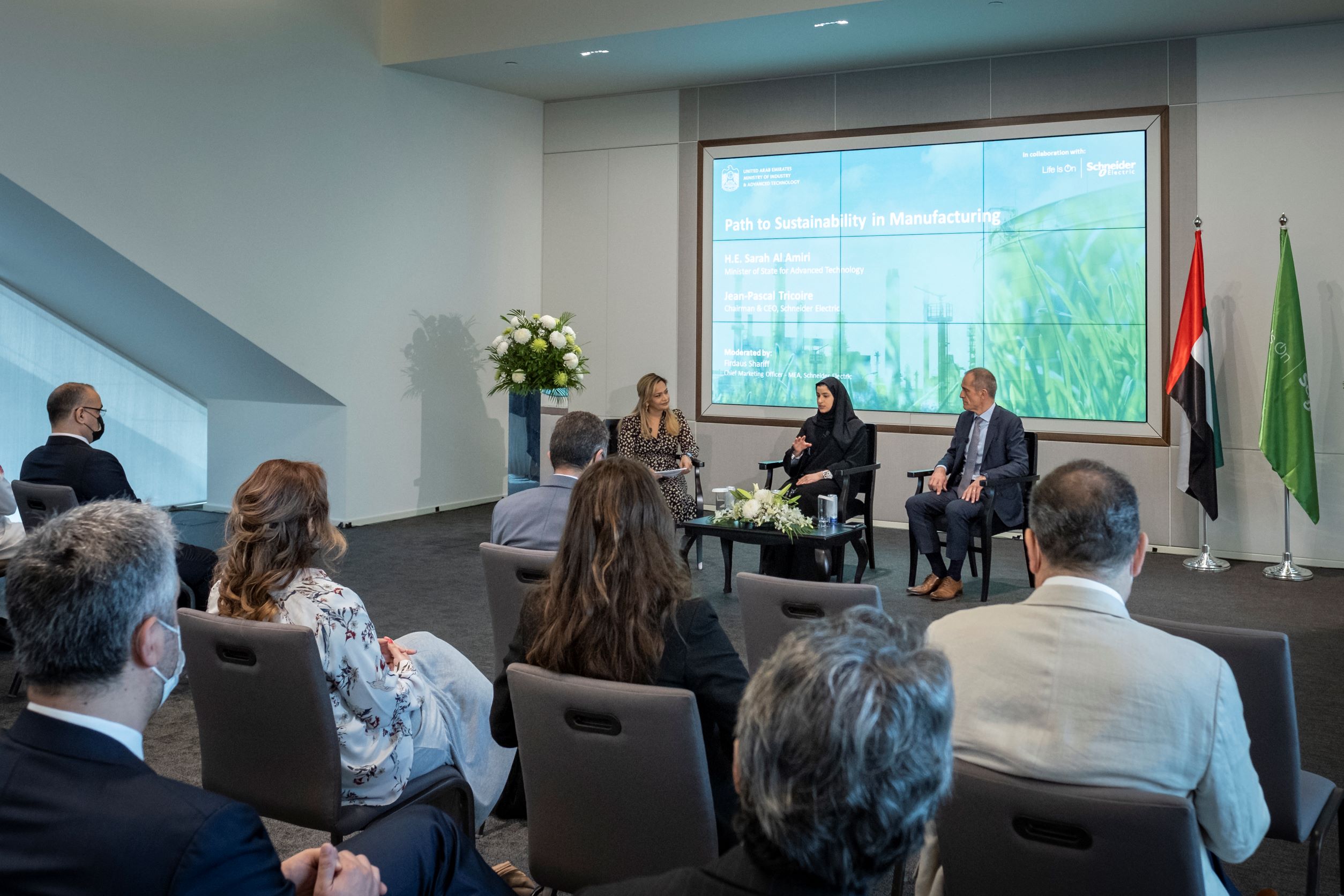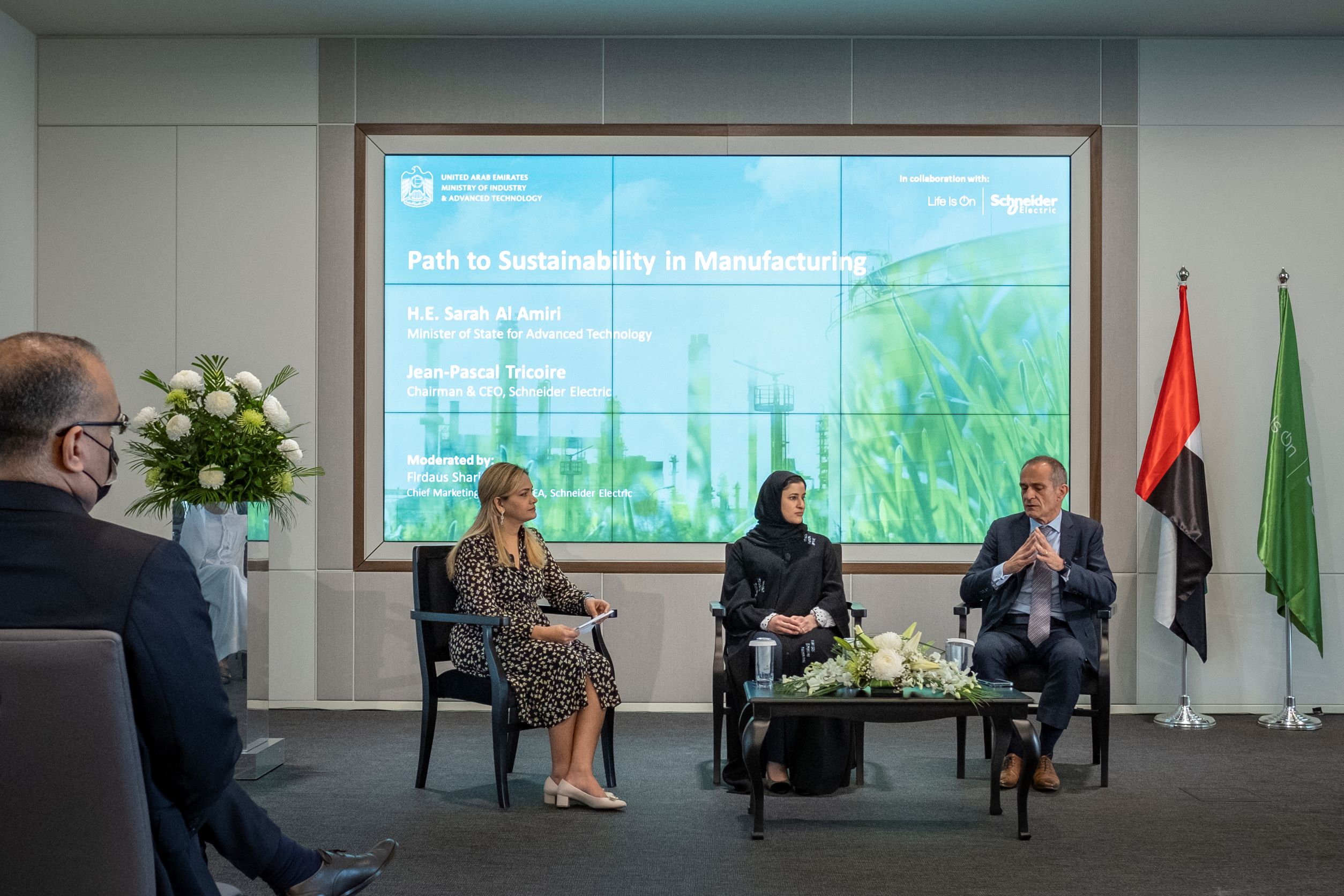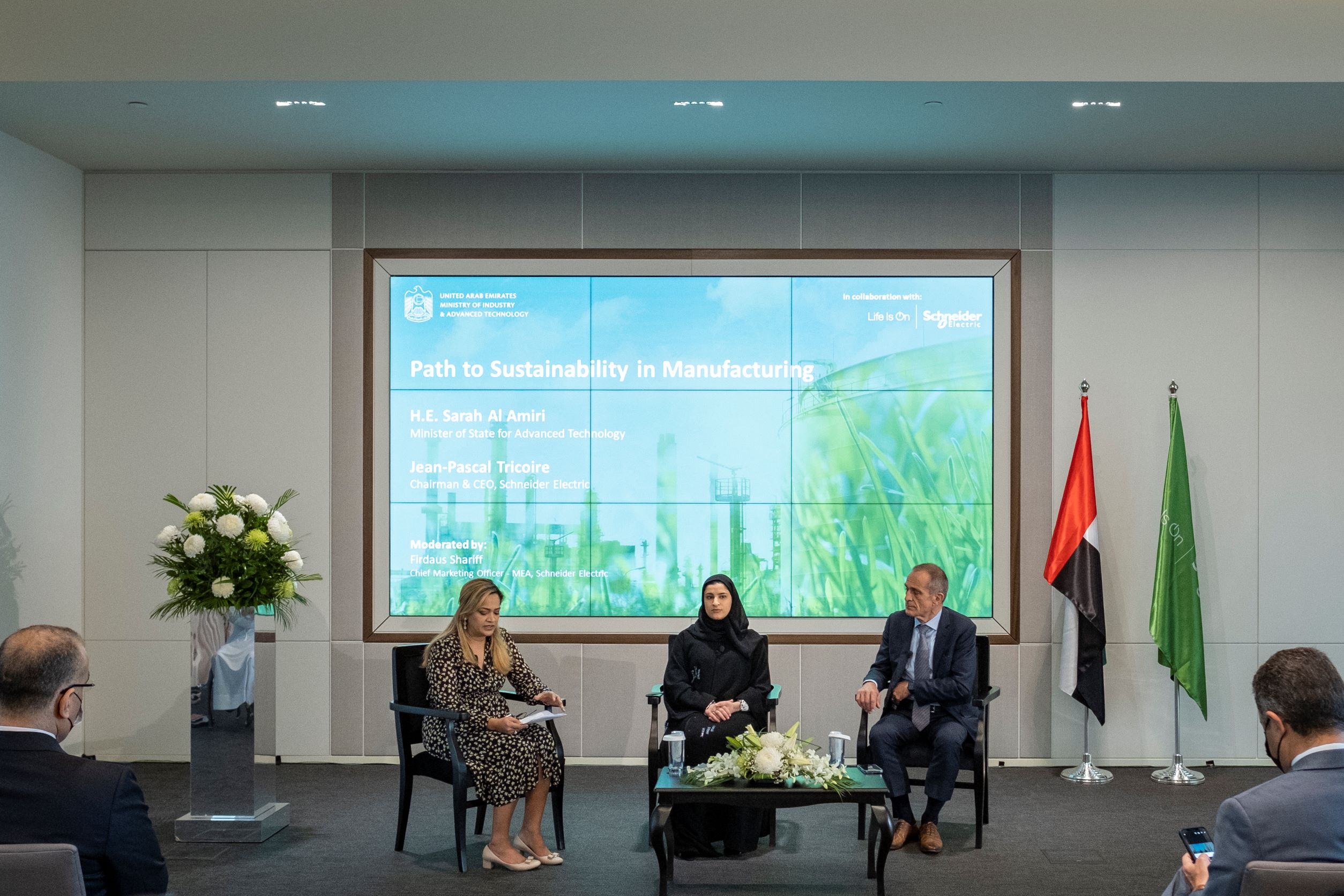 Dubai, UAE: 01 March 2022 – The Ministry of Industry and Advanced Technology (MoIAT) today hosted a live panel discussion in collaboration with Schneider Electric, to find ways to boost the UAE's ongoing efforts to forge a globally competitive and sustainable industrial base at the forefront of the Fourth Industrial Revolution.
The panel hosted Her Excellency Sarah Al Amiri, the UAE's Minister of State for Advanced Technology, and Jean-Pascal Tricoire, Chairman and CEO of Schneider Electric, at the Dubai Exhibition Centre at EXPO 2020 Dubai.
The discussion focused on MoIAT's mission to further enhance the UAE's advanced industrial sector, ways of upskilling national human capital, the latest global digitlization trends, sustainability and energy management, and facilitating technology and knowledge transfers to support the UAE's vision.
Speaking at the session, Her Excellency Sarah Al Amiri said: "Industry 4.0 technologies empower to connect all stakeholders, in addition to raw material and products, into a resource for sustainability and future growth. The UAE Industry 4.0 Program, for example, is designed to accelerate the integration of 4IR solutions and applications across the UAE's industrial sector.
"One of the core elements of the program is the Champions 4.0 Network, in which leading local and international companies unite to share best-practice in the deployment of 4IR technologies across the UAE's industrial sector. A key pillar of the network is the Smart Industry Readiness Index to help manufacturers – regardless of size and industry – start, scale, and sustain their manufacturing transformation journeys."
She added: "These partnerships with Schneider Electric, as a global specialist in energy management and automation, are a testament to our approach of collaborative innovation. By working with partners, across industries and beyond borders, we can create lasting and systematic change and provide a living lab for pioneering solutions."
Our partnership with the UAE Ministry of Industry and Advanced Technology is a reflection of Schneider Electric's commitment and belief in the power of Public Private Partnerships, and the role Schneider Electric can play in the digital transformation of the UAE industrial sector," said Jean-Pascal Tricoire, Chief Executive Officer and Chairman, Schneider Electric.
"Being part of the Ministry's Champions 4.0 network, and with the deep knowledge and experience Schneider Electric brings in the areas of Digitization, facilitates the convergence of Industry 4.0 and Energy Efficiency for Sustainability. This can empower major players in the UAE manufacturing sector to accelerate the transformation to green and intelligent manufacturing, and align with the country leadership's vision to maintain the sustainable growth of the sector and boosting its contribution to the economic development of the nation," added Tricoire.
The meeting follows a series of collaborations between the Ministry of Industry and Advanced Technology and Schneider Electric, including the Champions 4.0 Network under the UAE Industry 4.0 Program, the Smart Industry Readiness Index, and the Sustainability Assessments initiative.
Release Details
March 01, 2022
Dubai
---
Share on social
---
Tags