Back to Latest News
WAM Q&A with HE Dr Sultan bin Ahmad Al Jaber, Minister of Industry and Advanced Technology, Chairman of Emirates Development Bank
How did MoIAT prepare the strategy, Operation 300bn?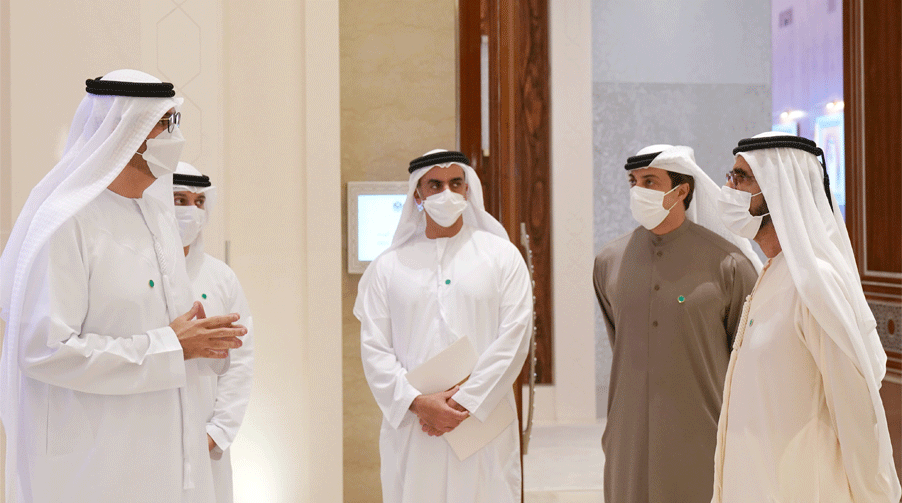 In alignment with our leadership's direction and the on-going preparations for the UAE Centennial 2071, we launched Operation 300bn to make the industrial sector a key pillar of the national economy. The aim is to enhance its regional and global competitiveness, accelerate advanced technology adoption across the value chain and increase in-country value – all while creating thousands of new jobs for our citizens.
To achieve this, we formulated a comprehensive strategy that builds on the already robust foundations of our industrial base but which, crucially, can adapt to meet the challenge of rapid change affected by the coronavirus (COVID-19) pandemic.
Inclusiveness was at the heart of our approach. We wanted to harness the diverse perspectives and experience of those who know the industrial sector best. So, we engaged more than 200 stakeholders, conducted more than 40 workshops and more than 10 specialized surveys. By collaborating with the people closest to the industries vital to the UAE's economic prosperity, we identified a number of challenges and solutions integral to our success.
From here, we formulated four key objectives. They include, firstly, creating an attractive busines environment for local and international investors. Secondly, enhancing the competitiveness and value of locally manufactured products. Thirdly, stimulating innovation through the adoption of Fourth Industrial Revolution (4IR) solutions, and finally, boosting the UAE's reputation as a global destination for leading future industries with world-class infrastructure.
With the launch of the National Strategy for Industry in the country, what are the industrial areas that will be focused on developing in the coming years? What is the target share of this sector's contribution to the state's GDP?
The headline goal of Operation 300bn is to more than double the industrial sector's GDP contribution to AED300 billion by 2031 – its current economic output is AED133 billion.
To get there, we're targeting three critical enablement areas. They include industries where we already have a globally-recognized presence, industries that will reinforce our resilience and reduce dependencies on global supply chains, and then there's industries of the future – the sectors powered by 4IR technologies. Taken together, these three areas will stimulate growth, boost productivity and cultivate a climate of innovation and entrepreneurship across our vibrant industrial spectrum.
From these three growth areas, 11 priority sectors stand out. They are space technology, medical supplies, clean and renewable energy, machinery and equipment rubber and plastic, chemicals, metals, advanced technology manufacturing, electronics, pharmaceuticals, food and beverage (F&B).
How do you see the role of the private sector in the future of industrial investment in the country, and will incentives be provided to encourage investors to enter certain industrial fields?
Cross-sector collaboration is the key to success. Indeed, public-private sector cooperation has been the foundation for the successful diversification of our national economy, especially in the last two decades. It is thanks to this approach that the UAE has become a paragon of the modern global hub – for so many industries.
As for incentives, there are always plenty. It's not by chance that The UAE has become one of the most attractive places to do business in the world – it wasn't built in a day, after all. Thanks to years of unyielding dedication to developing a unique and holistic business environment, the UAE today offers an exhaustive list of reasons investors and business owners are moving their businesses here.
They include, our economic stability, an unrivalled strategic location, strong financial reserves, a world-class ICT and logistics infrastructure, a vastly diverse and accessible energy mix offered at competitive rates, a high credit rating and enabling legislation, and most recently a long-term residency system for foreigners, and a law that now allows foreigners 100% ownership of their enterprises.
Building on these business-friendly conditions, we're also looking to enhance our offering by updating the Industrial Law to support local entrepreneurs and attract foreign direct investment to unlock further opportunities for small and medium-sized enterprises (SMEs) and large corporates.
To complement Operation 300bn, we have also launched the "Make it in the Emirates" campaign - a first-of-its-kind campaign in the UAE to help international investors, innovators and developers to fulfill their ambitions of developing, manufacturing and exporting their products from the UAE, all while reaping the benefits of our thriving industrial base.
How pressing is the need for industrial sector projects to enter more global strategic partnerships, especially in specific and delicate projects?
Global partnerships are a crucial element of ambitious national strategies. This is especially the case for us in the UAE. Indeed, a real mark of distinction for the UAE, in the eyes of many international institutions, is our long and storied track record of making global strategic partnerships work. Our message is always the same: we are stronger when we work together.
What are the highlights of the new EDB strategy, especially with regards to housing projects? Will specific privileges be offered to borrowers?
The Emirates Development Bank will naturally continue to provide financing for housing for Emiratis. At the same time, EDB will act as the financial engine of Operation 300bn. By providing flexible financing programs and dedicated investment funds to support entrepreneurs, startups and SMEs, EDB will help catalyze the sustainable growth and diversification of the UAE's economy, while aiming to accelerate advanced technology adoption across industry to foster a knowledge-based economy.
In the first phase of its strategy, EDB's funding will focus on companies in the manufacturing, infrastructure, technology, healthcare and food security industries. In the next phase, the EDB will enhance the support available to the economic and industrial sectors. Its priorities include establishing partnerships with UAE banks to enhance financial services provided to industrial companies, and raising the total direct financing provided by EDB by 73% in 2021.
EDB will continue to provide housing finances to Emiratis through financial and technical facilities that ensures they have access to real estate credit designated for the construction, maintenance and development of buildings intended for personal housing.
What're EDB's directives on SMEs and encouraging them? Are there specific objectives in their regard?
SMEs are the backbone of the economy. Indeed, in the UAE, SMEs currently employ 86% of the workforce in the private sector and contribute more than 60% to our GDP.
To ensure SMEs further foster SME growth and a spirit entrepreneurship, EDB has allocated a portfolio of AED30 billion to support priority industrial sectors over a period of five years, which we expect could support more than 13,500 SMEs, as well as thousands of new jobs.
The bank has also identified four initiatives they see as critical enablers to SMEs' growth. They include first – the relaunch of the direct lending program for micro-SMEs specializing in economy; second – the relaunch of the Credit Guarantee Scheme and co-lending program; third – the design and launch of the non-financial services; and fourth – expanding the National Supply Chain Finance platform.
Furthermore, EDB has also developed non-financial services to support SMEs. They've developed a range of digital programs to help companies prioritize digital transformation technologies, as well as offering specialized advisory in project management and business efficiency to transfer knowledge to SMEs and hone their expertise.
EDB will also connect startups to specialized parties through professional networks, with the aim of helping them expand and supporting them in market research.
Is there a tendency to provide more facilities to finance industrial projects in the country to support the industrial sector, and will there be a focus on the specific types of these investments?
There are five priority sectors that MoIAT and EDB will work closely on to drive economic growth. They are manufacturing, infrastructure, technology, healthcare, and food security.
As such, EDB has developed a range of unique financial products, which be offered to companies in these sectors. They include:
Asset based financing: A loan secured by high quality assets
Receivable financing: Short term revolving credit
Reverse factoring: A method allowing small and medium enterprises to get paid early for goods and services supplied to large companies
Long-term financing: Long-term corporate financing to support medium and large investments
Release Details
April 05, 2021
Dubai
---
Share on social
---
Tags