Back to Latest News
UAE, Egypt, Jordan and Bahrain sign $2 billion of industrial agreements
12 agreements signed across 9 industrial projects during third meeting of the Higher Committee for the Integrated Industrial Partnership for Sustainable Economic Developments
Projects to create 13,000 job opportunities and boost GDP by $1.6 billion in member states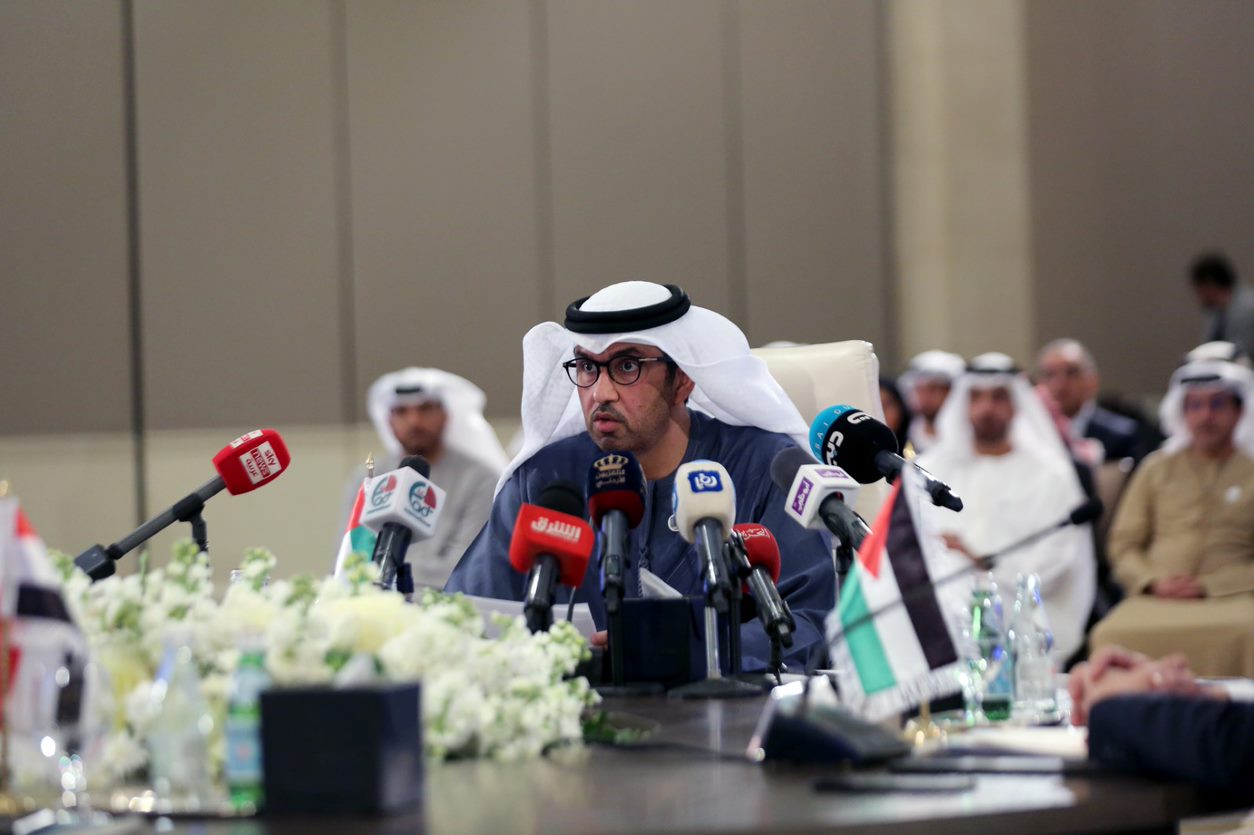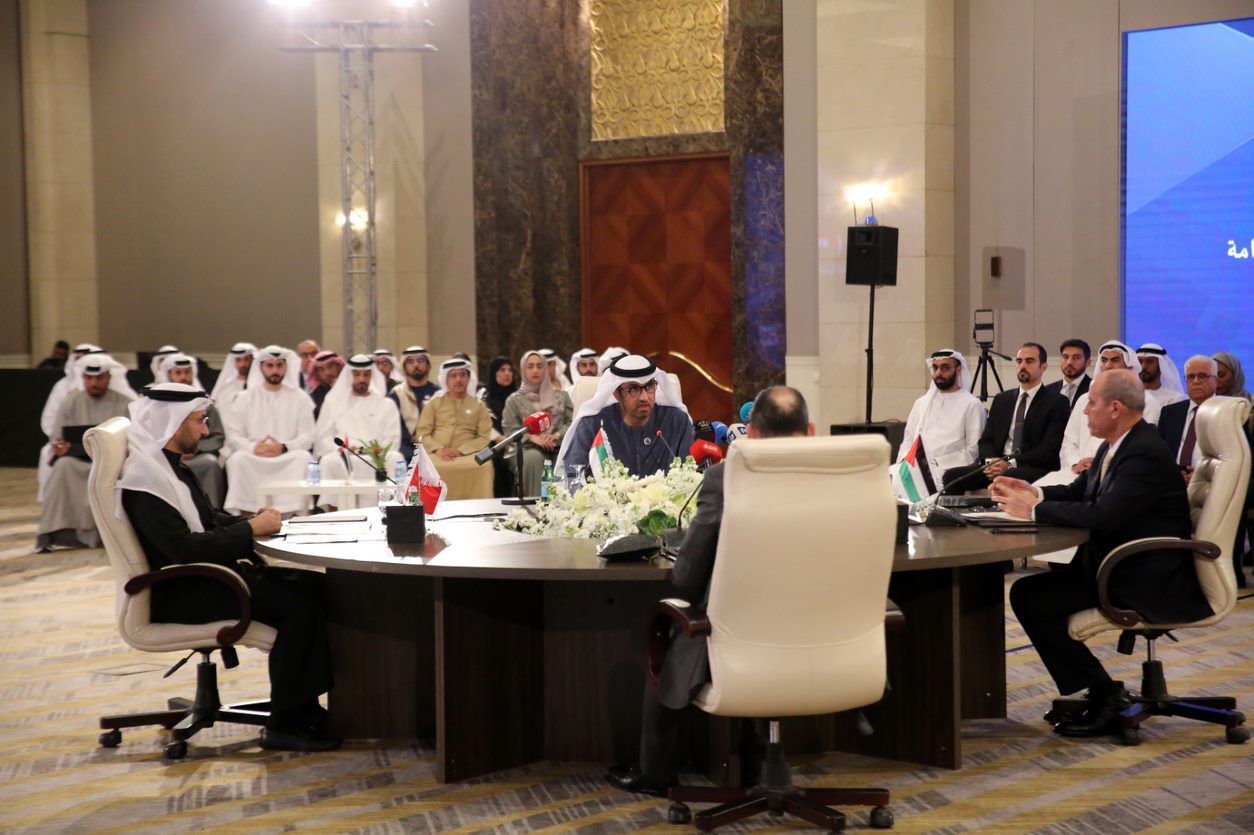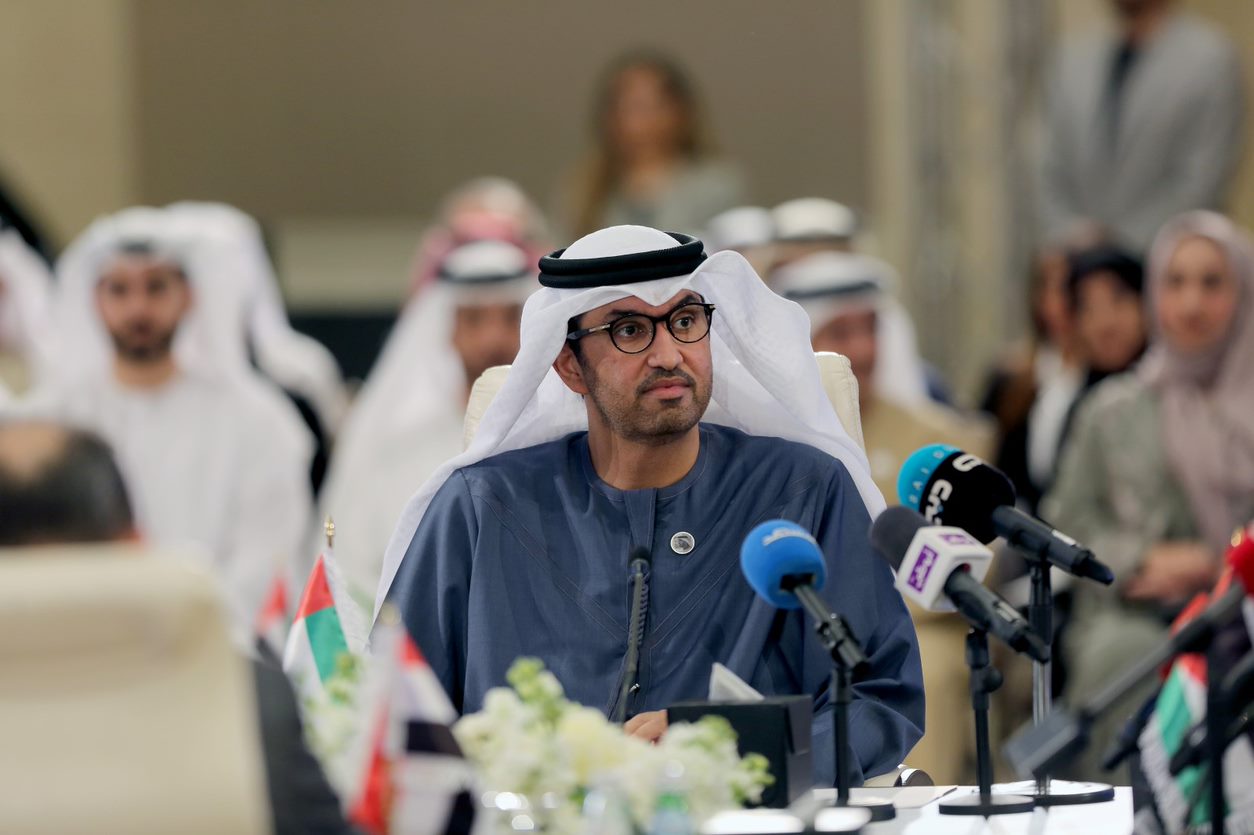 Amman, Jordan: 26 February 2023 – Companies from the UAE, Egypt, Jordan and Bahrain signed industrial agreements with an investment value exceeding $2 billion at the third Higher Committee meeting of the Industrial Partnership for Sustainable Economic Development.
The meeting kicked off in Amman on Sunday in the presence of His Excellency Dr Sultan bin Ahmed Al Jaber, UAE Minister of Industry and Advanced Technology and the UAE's special envoy for climate change, His Excellency Ahmed Samir Saleh, Egyptian Minister of Industry and Trade of Egypt, His Excellency Yousef Al Shamali, Jordanian Minister of Industry, Trade and Supply, and His Excellency Abdulla Adel Fakhro, Bahraini Minister of Industry and Commerce.
The meeting included the signing of 12 agreements across 9 industrial projects. The projects are expected to create approximately 13,000 job opportunities and boost national GDP in the partnering countries by more than $1.6 billion.
Jordan's Prime Minister His Excellency Dr Bisher Al-Khasawneh attended the signing ceremony of the partnership agreements along with the industrial ministers from the four countries. HE Dr Al-Khasawneh met with the ministers of the partner countries and stressed the importance of this partnership in strengthening bilateral relations and economic development, along with the importance of the industrial sector's role within participating countries.
His Excellency Dr Al Jaber said: "We are grateful for His Majesty King Abdullah II for his continuous support for UAE-Jordanian relations, and for his support of the Integrated Industrial Partnership for Sustainable Economic Development. We thank the government of Jordan and its people for their hospitality in hosting the third meeting of the Higher Committee for the Integrated Industrial Partnership for Sustainable Economic Development.
His Excellency Dr Al Jaber said: "We are keen on collaborating and complementing regional efforts to achieve integrated sustainable economic development. The UAE is committed to enhancing collaboration with member states to ensure we all benefit from each other's competitive advantages and capabilities.
"This partnership is beginning to yield tangible results. It represents an exceptional model for industrial partnerships among private sector companies. It is testament to our collective ability to plan, integrate, and progress towards achieving our objectives, all while we are still at the beginning of this fruitful partnership. We are confident that we will witness the development of many new projects in the future."
He added: "We call on companies in our respective countries to enter these partnerships and put forward proposals for projects that benefit from the capabilities of our countries and from our competitive advantages, resources, and expertise. As governments, our responsibility is to support these projects, enhance partnerships and provide the economic environment that enables their success."
For his part, His Excellency Al Shamali, Jordan's Minister of Industry, Trade and Supply, said: "Since launching this partnership, we have witnessed a multi-faceted boom that heralds the start of a profound and sustainable transformation in the relations between our industrial sectors. The first aspect of this shift was reflected in the economic discourse adopted by officials and media, who highlighted the benefits that our countries will reap through pursuing industrial integration. This is an integrated Arab effort directed by the highest political levels of the four countries.
His Excellency Eng. Ahmed Samir Saleh, Egypt's Minister of Industry and Trade, underlined Egypt's commitment to enhancing multilateral efforts with the UAE, Jordan and Bahrain to boost industrial integration among Arab nations and support economic relations.
"The economic crisis the world is currently experiencing demonstrates the necessity of achieving industrial integration among Arab states. It is clear we must strengthen regional partnerships and include the private sector as a major partner in implementing sustainable development plans and helping the Arab region to prosper.
"Recent geopolitical and economic challenges demand stronger bonds among Arab nations and more robust economic partnerships. These partnerships can help to enhance resilience against future crises as well as achieve self-sufficiency and sustainable economic development."
His Excellency Abdulla bin Adel Fakhro, Bahrain's Minister of Industry and Commerce, said: "The partnership offers a real opportunity to increase the efficiency of supply chains through the integration of industries in the region, which is a pillar of Bahrain's industrial strategy. Bahrain has proposed more than 10 industrial projects with an estimated investment value of over $2 billion. These include mature projects and projects in their early stages. The locations of these factories vary, as we believe that all partner countries should benefit from them."
His Excellency also invited the partnership to hold its next meeting in 2023 in Bahrain.
12 major agreements
The Egyptian company Soda Chemical Industries announced an investment of $500 million to produce sodium carbonate, 'soda ash', which is the main raw material in many industries, such as the glass and detergent sector. The facility will have a production capacity of 500,000 tons annually. A MoU was signed for a strategic partnership with the Emirates Flat Glass Company, owned by Dubai Investments, to purchase the final product.
UAE-based automotive manufacturer M Glory Holding announced the launch of a large manufacturing project with an investment of $550 million. The project will establish 3 electric vehicle factories with specialized production and assembly lines in the UAE, Jordan and Egypt.
Production capacity will reach 40,000 compact crossover SUVs during the first three years of operation. M Glory Holding signed memoranda of understanding with the Jordan Design and Development Bureau and Egypt's Arab Organization for Industrialization as manufacturing partners, and with Bahrain's GARMCO to supply aluminum sheets. The agreement exemplifies how the partnership aligns with sustainability objectives and the UAE's presidency of COP28.
Emirati investor-owned CFC Group announced it will invest $400 million to establish an industrial complex for fertilizers and chemicals in Egypt. It signed MoUs with Jordan-based Arab Potash and Egypt's Misr Phosphate Company to supply raw materials. The industrial complex will have an annual production capacity of half-a-ton of fodder and potash fertilizers, and 1.1 tons of chemicals.
Emirates Global Aluminium announced a $200 million investment to establish a silicon metal plant in the UAE with a production capacity of 55,000 tons per year. The company signed a MoU with the Jordan's Manaseer Group to supply the required crystalline silica.
Manaseer Group announced the expansion of a $70 million magnesium oxide plant in Jordan. Once completed, the plant will have a total production capacity of 270,000 tons annually, which will be exported to the UAE. It will sell its product to Emirates Global Aluminium. Production is set to commence in 2024.
The UAE's Globalpharma entered a partnership with Egypt's Nerhadou to develop advanced technology for the manufacturing of medicines and supplements. An agreement was also signed to transfer technology to two Jordanian companies – Savvy Pharma and Triumph. Both projects will commence in 2023 with a total investment value of $60 million. Production capacity will reach 5 million packages annually per product.
Jordanian company Itqan announced a technology transfer partnership and contract manufacturing agreement with Globalpharma and ADCAN Pharma to manufacture syringes, aerosols, and inhalers. It also entered a MoU with Egypt's Marcyrl for the transfer of technology in manufacturing biosimilars in Jordan at a total investment value of $10 million, with the aim of launching products by Q4 2024.
Bahrain-based Alpha Biotic signed two MoUs for knowledge and technology transfer as well as contract manufacturing with Jordan's Dar Al Dawa and Egypt's EIPICO, to produce general products, oncology products, medical solutions, and other pharmaceutical products. At an investment value of $174 million over two phases, the project's production capacity is expected to reach 350 million pills per year.
Gulf Biotech, another Bahraini company, announced plans to establish a plant to manufacture raw materials for vaccines and other products at an investment value of $103 million and a production capacity of 105 doses per year. Earlier this month, it signed a technology transfer agreement with Egypt's BioGeneric Pharma.
35 new projects proposed
During the meetings, His Excellency Omar Al Suwaidi, Undersecretary of the UAE Ministry of Industry and Advanced Technology Head of the Partnership's Executive Committee, presented an update on the partnership's progress, the findings of the partnership's workshops, investment opportunities, and future plans for developing the partnership.
His Excellency noted that more than 100 companies have participated in the metals, textiles and petrochemical workshops held over the past 6 months. The partnership has also received 35 proposals for new projects, he said.
"The proposals were discussed during workshops held by the Executive Committee in Amman. The workshops also helped to prepare an implementation plan for enablers in the agriculture, food, fertilizers and pharmaceutical sectors. During the workshops, the UAE and Jordan made a pharmaceutical mutual recognition agreement," His Excellency said.
He added: "The committee is studying the feasibility and economic impact of projects in various sectors, along with partnership opportunities with the private sector. The committee will continue to search for new projects and evaluate and enable projects, including a fertilizer factory in Jordan at an estimated cost of $800 million.
During the meeting in Amman, the Executive Committee of the Integrated Industrial Partnership for Sustainable Economic Development submitted recommendations and a report to the Higher Committee for approval. It also discussed a number of potential projects and listened to representatives of industrial companies who presented proposals for projects.
The UAE delegation participating in the committee meetings included His Excellency Sheikh Khalifa bin Mohammed bin Khalid Al Nahyan, Ambassador of the United Arab Emirates to the Hashemite Kingdom of Jordan, a number of employees of the Ministry of Industry and Advanced Technology, the Ministry of Health, and a number of officials and representatives of relevant Emirati companies. These included ADNOC, Emirates Global Aluminium, Dubai Investments, Abu Dhabi Holding Company, Mubadala, Janan Company, M-Glory Holding Group, Global Pharma, Adkan Pharma, and Al Dahra Company.
The Jordanian delegation included His Excellency Dana Al-Zoubi, Secretary General of the Ministry of Industry, Trade and Supply, and a number of the ministry's employees. The Egyptian delegation included His Excellency the Egyptian Ambassador to the Hashemite Kingdom of Jordan, Eng. Duaa Salima, Executive Director of the Industry Modernization Center, and Yasser Jaber, Undersecretary for Information and the official spokesperson of the ministry. Bahrain's delegation included His Excellency the Ambassador of the Kingdom of Bahrain to the Hashemite Kingdom of Jordan, Iman Al-Dosari, Undersecretary of the Ministry of Industry and Trade, and Dr. Khaled Al-Alawi, Assistant Undersecretary for Industry Development Mahmoud Al-Mujbel Director of Communication and Awareness Department.
Upcoming meeting in Bahrain
Bahrain's capital will host the fourth meeting of the Higher Committee for the Integrated Industrial Partnership for Sustainable Economic Development, where more joint projects will be discussed.
The first meeting of the Supreme Committee for the Integrated Industrial Partnership for Sustainable Economic Development was held in the UAE's capital, Abu Dhabi. The meeting discussed accelerating the pace of industrial integration opportunities and enhancing cooperation by involving more sectors, in addition to the 5 main sectors of agriculture, food and fertilizers, pharmaceuticals, textiles, minerals, and petrochemicals.
Release Details
February 26, 2023
Amman, Jordan
---
Share on social
---
Tags