Her Excellency Sarah Bint Yousif Al Amiri
Minister of State for Public Education and Advanced Technology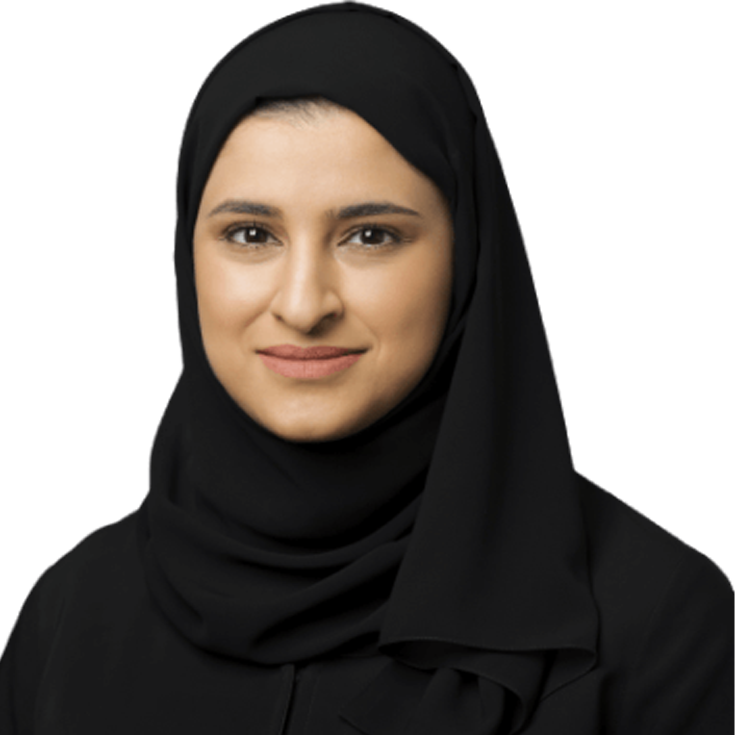 Message from Her Excellency Sarah Bint Yousif Al Amiri, Minister of State for Public Education and Advanced Technology
Our trailblazing team at the Ministry of Industry and Advanced Technology (MoIAT) is moving into the future with agility, confidence and clarity of purpose.
We intuitively understand the correlation between investing in an advanced R&D ecosystem and further enhancing our national capacities with future-focused skills. As such, we are pushing the envelope of scientific discovery. Raising the bar of advanced technology adoption. And equipping future generations with the tools to take on tomorrow's world.
We believe that doing this will significantly boost the UAE's global competitiveness. It will generate new levels of in-country value. Enable pioneering industrial development across the value chain. Forge new economic sectors. Fortify our supply chains. And reaffirm our status as a global leader in industries of the future.
Through our work, MoIAT is shaping future-focused sectors by leveraging Fourth Industrial Revolution (4IR) solutions, making the UAE a regional vanguard of the digital era. To further accelerate our efforts to lead the pack, we established a national plan to ensure greater cooperation and support for our partners and stakeholders in the industrial sector. Together, we will ignite innovation in our thriving industrial landscape and energize our commercial production capabilities.
We are working tirelessly to enhance the UAE's position as a global 4IR leader. We are relentless in the pursuit of our ambitions to shape a competitive national economy based on knowledge, innovation and future technologies, which merge physical, digital and biological spheres. And, through it all, we are aligned with the UAE's Strategy for the 4IR which seeks to establish the nation as a global paragon of proactively preparing for future challenges through the adoption of Industry 4.0 technologies and tools to better serve society as a whole.
We have set-out on this bold journey of discovery by supporting national applied research endeavors and building frameworks and systems to advance the industrial sector. Our goal to realize the vision of our leadership: to position the UAE as a global industry leader and boost its competitiveness.
Throughout our endeavors, we will continue to support these visionary goals through formulating national policies, plans, programs and identifying key success enablers according to a structured approach.
In defining the Ministry's agenda for the future, we will continue to align with our national priorities to strengthen the industrial sector's contribution to diversifying the economy. To achieve this, we will enhance our industrial efficiencies and forge new sectors to attract foreign direct investment (FDI), particularly in high-tech and high-growth industries that will boost economic recovery as we move towards a post-pandemic era.
Today, the UAE is one of the fastest recovering economies in the wake of the COVID-19 pandemic. This is down to the proactive vision of our leaders who identified and developed innovative ways to overcome our present and future challenges. In this way, we are not only bouncing back from the economic torpor affected by the virus, we are moving forwards in tandem with the objectives of the UAE Centennial 2071.
To continue moving in the right direction, MoIAT is encouraging businesses in the UAE to adopt cutting-edge technologies, align with best international practices and accelerate the transition to clean and sustainable industries.
Our next stage of growth requires seizing new opportunities. We must design and action plans that can further enhance collaboration among all government entities. We must work together to define our challenges and find solutions to them. Only through doing so can we build the UAE's credibility as a pioneer of innovative solutions, expand its digital infrastructure and create the opportunities that will make our future a prosperous and inclusive one.
Minister's full bio
Her Excellency Sarah bint Yousef Al Amiri Minister of State for Public Education and Advanced Technology
Her Excellency Sarah bint Yousef Al Amiri is the UAE Minister of State for Public Education and Advanced Technology and Chairwoman of the UAE Space Agency.
In her role as Minister of State for Public Education and Advanced Technology, her Excellency spearheads the UAE Ministry of Industry and Advanced Technology's efforts to empower the adoption of Fourth Industrial Revolution technologies and promote research and development in the advanced science and technology sector, in order to create new industries that drive the shift towards a knowledge economy. This, in turn, contributes to the overall mandate of the Ministry to strengthen the UAE's industrial base, ensure in-country value, and raise the competitiveness of local industries.
As Chairwoman of the Space Agency, Her Excellency is responsible to oversee the Agency's mandate of guiding the space sector, ensuring its contribution to the national economy and to the UAE's sustainable development.
Her Excellency is also the Chairwoman of the Emirates Scientists Council, Chairwoman of the Fourth Industrial Revolution Council, Chairwoman of the Dubai Future Academy Board of Trustees, and she previously served as the Deputy Project Manager and Science Lead of the Emirates Mars Mission (Hope) at the Mohammed bin Rashid Space Centre (MBRSC) before going on to be appointed Chairwoman of the UAE Space Agency.
Previously, Her Excellency was the Head of R&D at MBRSC, where she established the Centre's knowledge management, strategic research and product assurance functionalities. She was also involved in DubaiSat-1 and DubaiSat-2, and in the establishment of the KhalifaSat program.
In 2014, Her Excellency was tasked with and led the establishment of the Advanced Aerial Systems Program, where she championed development efforts on a prototype High Altitude Pseudo-Satellite. The project resulted in a successful 24-hour flight of the unmanned vehicle, which recorded the highest altitude of any aircraft over UAE airspace.
In 2015, the World Economic Forum honoured Her Excellency as one of its 50 Young Scientists for her contributions to science, technology and engineering.
H.E. Sarah Al Amiri holds a Bachelor's and a Master's degree in Computer Engineering from the American University of Sharjah..